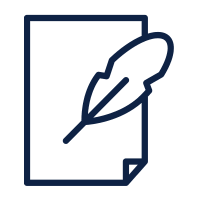 ePOD / oPOD
CHARACTERISICS
ePOD – Electronic Proof Of Delivery
Allows the replacement of the A5 printed AWB with the tag prepared by the sender
Receiving e-mail confirmation
Usually used by online stores, where there is a large amount of deliveries
oPOD – Original Proof Of Deliver
The original AWB returns to the sender, as proof of delivery
This option can be selected only by the sender, by paying a tax of 12.00 lei (without VAT)/delivery | 14.28 lei (with VAT)/delivery.
*The displayed prices include the value excluding VAT and the VAT included
You can only choose one of the two options: ePOD/ oPOD. They are mutually exclusive.
AVAILABILITY
EPOD / OPOD are available for the following services: Standard, Red code, Express loco, Caiet de sarcini, Campus.